Haynes and Boone, LLP's Fall 2023 Energy Bank Price Deck Survey found energy banks expect a rise in oil prices but a drop in natural gas in the short term.

The average base case price for oil was $69.65/bbl (West Texas Intermediate), which is $4 higher than when Haynes Boone conducted its spring survey. Haynes Boone lawyers attribute the increase to production cuts made by OPEC and the current conflict in the Middle East. Still, there are concerns about a drop in demand in the future, with the base case price settling at $55.66/bbl by 2032.

By contrast, natural gas prices were slightly lower than in the spring, continuing an ongoing trend, which may be partly attributable to lower demand due to mild temperatures throughout the United States. Energy lenders expect a sharp rise in gas prices in the near future, though. Banks surveyed expect a jump from an average of $2.78/MMBtu (Henry Hub) in 2023 up to $3.46 in 2025, a nearly 25% increase.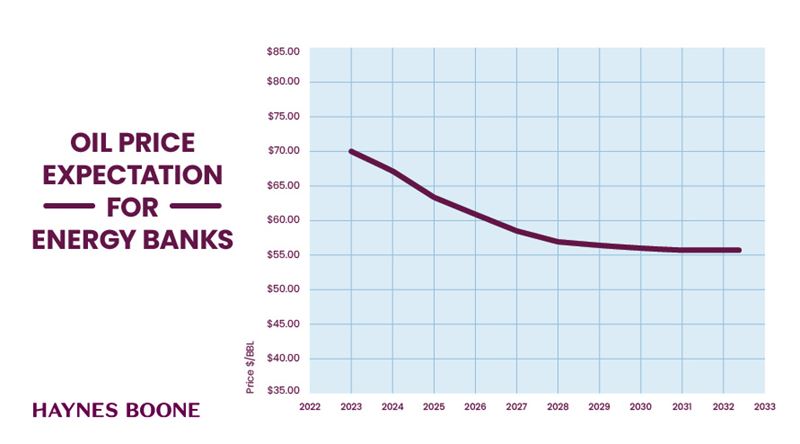 "The continued fall in natural gas prices could have a meaningful impact on producers this redetermination season," said Kim Mai, a Haynes Boone Energy Practice Group partner. "With that said, it's notable that despite continued concerns over drops in oil demand and prices, our fall borrowing base survey saw increased interest in financing new oil and gas wells."

Haynes Boone conducts a survey twice a year reviewing oil and gas price decks from leading energy banks. Those decks are used in the determination of oil and gas producers' borrowing bases. The fall edition included input from 25 banks. Most of the participants are regional banks that target small loans to independent oil and gas producers, while a few European banks have exited the U.S. reserve-based loan (RBL) space.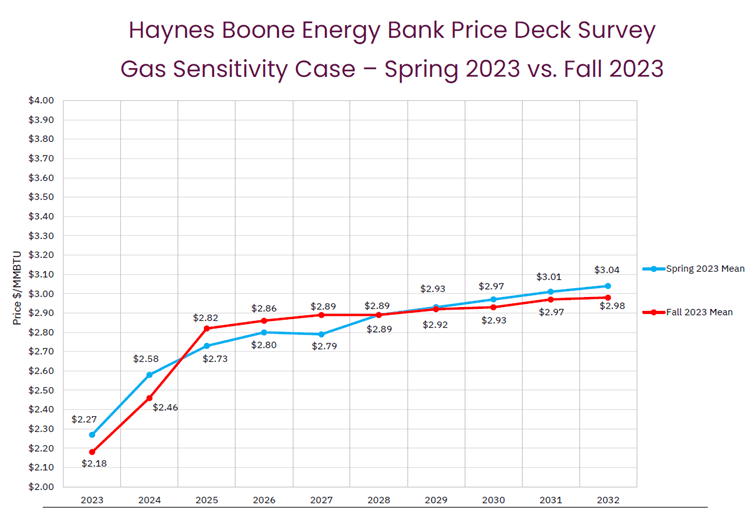 Haynes Boone's Energy, Power and Natural Resources Practice Group counsels clients, including power suppliers, marketers and load-serving entities, in the development of and refinements to the power markets. The group regularly works on sophisticated financings, high-stakes transactions, complex regulatory issues and litigation in state and federal courts. The firm's Oil and Gas Practice Group represents domestic and foreign public and private companies that conduct operations in resource and shale plays.

About Haynes Boone
Founded in 1970, Haynes and Boone, LLP provides a full spectrum of legal services across multiple sectors, including energy, financial services, private equity and technology. The firm's nearly 700 lawyers practice in 19 offices in California, Colorado, Illinois, New York, North Carolina, Texas, Virginia and Washington, D.C., as well as London, Mexico City and Shanghai. Haynes Boone was recognized in the 2022 BTI Consulting Group's A-Team report, which identified firms commended by in-house counsel for superior client service, and it was ranked 21st in The American Lawyer's 2023 Diversity Scorecard, which evaluated 228 participating firms by the diversity of their attorney populations. For more information, visit haynesboone.com.