Lindsey Hughes is a counsel in the Finance Practice Group in the Dallas office of Haynes and Boone. She represents some of the world's largest financial institutions in connection with the structuring, negotiation and documentation of complex domestic and multi-jurisdictional financing transactions, including subscription-secured credit facilities with top-tier private equity and real estate funds. Lindsey also has experience representing financial institutions and commercial borrowers in syndicated credit facilities, term loans, construction loans, real estate secured loans, hybrid collateral facilities, and acquisition financings.
Lindsey serves in various efforts at Haynes and Boone, including firm recruiting and as the chairman of the Attorney Liaison Committee. Outside of the firm, Lindsey is active in the business law section of the State Bar of Texas and on the board of directors of the Georgetown University Alumni Club of North Texas.
Lindsey was selected for inclusion in Texas Super Lawyers Rising Stars, Thomson Reuters, for Banking, 2015-2021.
Professional and Community Activities
Dallas Bar Association
Dallas Association of Young Lawyers
Expand All
Selected Client Representations
Assisted in the representation of agents, lenders and borrowers in syndicated credit transactions involving revolving credit facilities, term loans, letters of credit, and acquisition financings.
Assisted in the representation of administrative agents and lead arrangers in connection with multiple subscription secured credit facilities.
Assisted in the representation of a large dining, hospitality and entertainment company in connection with the acquisition of a high-end seafood restaurant chain, a private offering of senior secured notes, a $1.2 billion refinancing of its senior secured revolving credit facility secured by real property and personal assets managed by domestic subsidiaries, a Rule 144A offering of $425 million senior notes, and a tender offer repurchase of the issuer's outstanding notes.
Assisted in the representation of a real estate lender in connection with a real estate secured loan to fund the acquisition of master-planned residential communities and golf courses.
Assisted in the representation of an energy company in connection with a $75 million operating loan.
Qualifications
Education
B.A., Government, Georgetown University, 2006, cum laude
J.D., The University of Texas School of Law, 2010, with honors, Article and Notes Editor, Texas International Law Journal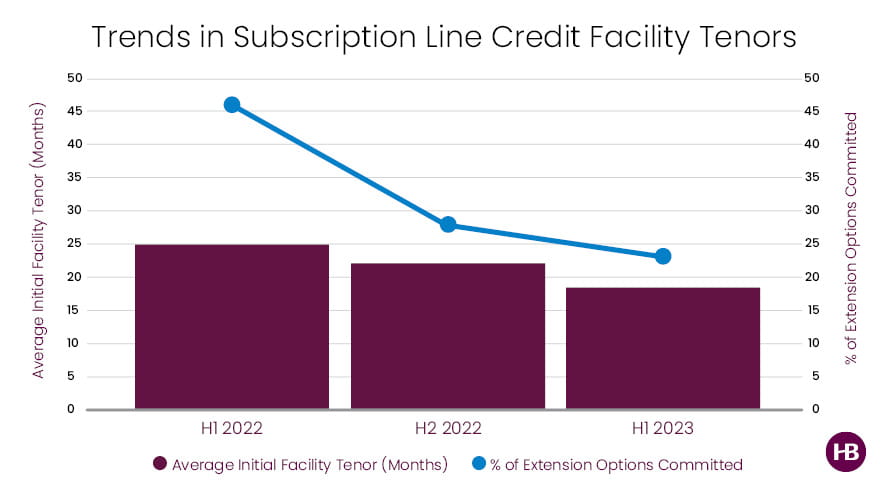 Alert
Fund Finance Insights: Trends in Facility Tenors
August 10, 2023
A typical subscription line credit facility (a "Facility") has an initial tenor of 1-3 years. Closed-end fund borrowers often have investment periods that range from 4-10 years during which time the funds typically desire continued access to the line of credit to facilitate the making of investments. To accommodate these different time frames, many Facilities offer borrowers maturity date extensio [...]