Diversity, Equity and Inclusion
Our 11 Actions for Meaningful Change
Creating a more diverse, equitable and inclusive workplace takes a strong commitment to making real, meaningful change. The following 11 steps outline our top-down, bottom-up approach to establishing a culture of inclusion, where each person is empowered, has a voice in decision-making, feels a sense of belonging and has opportunities for advancement.
These are our 11 Actions for Meaningful Change:
Assign value to DEI
Create a succession planning process with a Mansfield Rule-like requirement
Demonstrate commitment of firm leadership
Examine current attorney recruitment processes
Examine promotions and appointments processes
Foster a positive and inclusive environment for all
Institute ongoing mandatory education and training
Integrate DEI into all marketing materials
Evaluate optimal work allocation systems for associates
Enhance integration for black attorneys
Encourage real-time feedback to all associates
Expand All
Human Rights Campaign Corporate Equality Index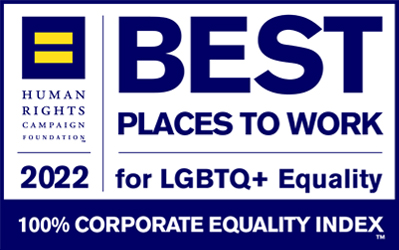 For the fourth consecutive year, Haynes Boone has earned a 100 percent rating in the Human Rights Campaign (HRC) Foundation's Corporate Equality Index and the distinction of being one of the "Best Places to Work for LGBTQ Equality."

The Corporate Equality Index (CEI) is a national benchmarking tool that measures policies, practices and benefits pertinent to lesbian, gay, bisexual, transgender and queer (LGBTQ) employees.
Mansfield Rule Certification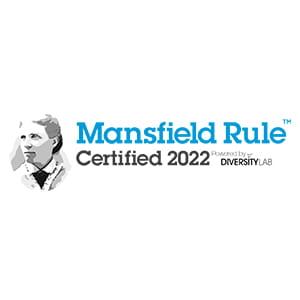 Haynes Boone is proud to join more than 160 law firms pursuing certification under the latest iteration of the Mansfield Rule, which aims to boost the representation of diverse lawyers in law firm leadership by broadening the pool of candidates considered for such opportunities.

The Mansfield Rule has become the standard by which law firms track and measure that they have affirmatively considered at least 30% women, lawyers from underrepresented racial/ethnic groups, lawyers with disabilities, and LGBTQ+ lawyers for top leadership roles, senior-level lateral hiring, promotions into the equity partnership, and participation in client pitch meetings.
The firm achieved Mansfield Rule 5.0 certification in October 2022 after completing a rigorous 12-month collaboration with Diversity Lab. The firm has also achieved Mansfield Certification Plus status, which shows even greater success in diversifying law firm leadership.
WILEF Gold Standard Certification
Haynes Boone has received the Women in Law Empowerment Forum (WILEF) Gold Standard Certification for the ninth year, showing the firm's continued commitment to diversity, equity, and inclusion.

The firm is among only 29 U.S. law firms awarded the 2021 Gold Certification. This is the ninth consecutive year for the firm to receive the award, which launched in 2010.

WILEF grants Gold Standard status to major firms that meet objective criteria concerning the number of women among equity partners, in firm leadership positions, and in the ranks of their most highly compensated partners.