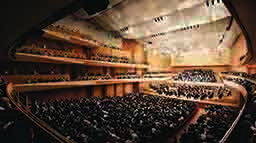 Haynes and Boone, LLP congratulates the New York Philharmonic on the recent debut of its 2021-2022 season.
Haynes Boone
represented the New York Philharmonic
in connection with financing that allowed it to speed up the $550 million renovation of its permanent home, David Geffen Hall. David Geffen Hall is scheduled to reopen in fall 2022, nearly two years ahead of schedule.
Lawyers in Haynes Boone's New York office have counseled the Philharmonic on other legal fronts, including brand protection, COVID-19 protocols, labor and employment issues, and corporate and tax strategic advice. Much of this work was done on a pro bono basis.
"It has been our honor and privilege to have played a small role in the triumphant return this year of one of the nation's most revered cultural institutions and a critical part of the lifeblood of New York," said Haynes Boone Partner Ken Bezozo, who opened the firm's New York office in 2004. "We look forward to advising the Philharmonic this season and in the years ahead, as it continues to grow and prosper."
Details about the New York Philharmonic's 2021-2022 performances
can be found here
.
The New York office of Haynes and Boone, the most actively expanding office of the firm, serves clients within various industries, including banking and finance, real estate, technology, aviation, and energy and renewables, and facilitates the firm's cross-border work across Asia, Latin America, and other global markets. Lawyers in the New York office focus primarily in the finance, real estate (acquisitions, finance, joint ventures and leasing), bankruptcy/restructurings, corporate/securities, and litigation practice areas.