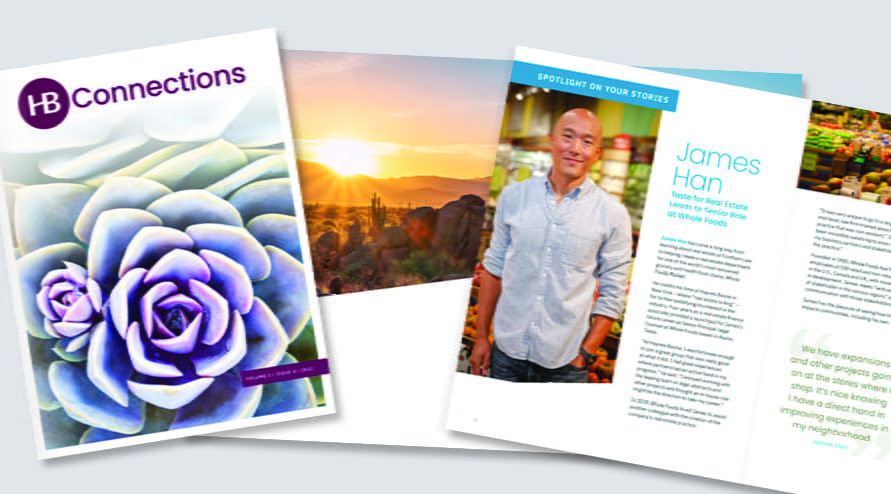 Haynes and Boone, LLP has released the latest edition of the firm's alumni magazine, HB Connections, which features articles about talented next-generation alums and their inspiring accomplishments and journeys.
Each of their stories contains a facet of well-being, which continues to be an important area of focus for the firm as we move into the new year.
You will read about young professionals like Kelly Bub Smith, General Counsel at B-29 Family Holdings, LLC, and mother of two young children who has found creative ways to incorporate wellness into her busy life, and James Han, who reconnected with Haynes Boone Partner Rebecca Landau for the interview and talked about playing golf together again. James is Senior Principal Legal Counsel at Whole Foods Market in Austin, Texas.
The publication also features Q&As with Casey Kempner, General Counsel for P&P Imports LLC in Irvine, Calif., and returning Associate Sam Mallick, who spent a year as a law clerk in Kansas and Arkansas.
"The people at Haynes Boone are the reason to stay, and they were my reason to come back," Sam says.
Managing Partner Taylor Wilson noted the lasting connections between Haynes Boone alumni and the firm.
"Strong social connections are linked to increased happiness. This holiday season, we hope you will take time to connect with others, give back, and take time out for yourself," he wrote.
To read the Winter 2022 edition of HB Connections, click here. To learn more about the firm's alumni program, click here.
Haynes and Boone, LLP is an international corporate law firm with 18 offices, spanning Texas, New York, California, Charlotte, Chicago, Denver, Washington, D.C., London, Mexico City and Shanghai, providing a full spectrum of legal services in energy, technology, financial services and private equity. With 600 lawyers, Haynes Boone is ranked among the largest U.S.-based firms by The National Law Journal, The American Lawyer and The Lawyer. It was recognized in the BTI Consulting Group's 2022 "A-Team" report, which identifies the law firms that in-house counsel commend for providing superior client service.