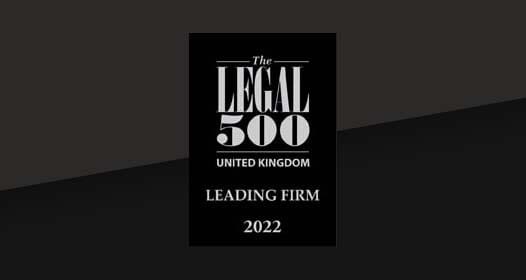 Haynes and Boone, LLP's London office has again received widespread recognition in the 2022 edition of the Legal 500 United Kingdom directory, published by Legalease.

In keeping with the growth of its London office, Haynes Boone had more lawyers and practices featured in the most recent Legal 500 directory.

The guide ranked Haynes Boone among the most recommended UK firms in five practice areas (one more practice than the previous year): Oil and Gas; Fund Finance; Shipping; International Arbitration; and Construction: Contentious.

The guide highlighted 12 Haynes and Boone lawyers: Partners: William Cecil, Andreas Dracoulis, Markus Esly, Mark Johnson, Glenn Kangisser, Emma Russell, Andreas Silcher, and Melanie Willems (Hall of Fame); Senior Counsel Simon Curtis (Shipping Hall of Fame); Counsel Robert Blackett; and Associate Phoebe Anderson (Rising Star).

Conrad Purcell, a partner in the Energy, Power and Natural Resources Practice Group and one of the newest lawyers in Haynes Boone's London office, also received praise for his professionalism and efficiency. Once client said: "He always delivers the best solution on time. We definitely would like to continue having Conrad for our future projects."

The Legal 500 analyzes the capabilities of law firms across the world, based on feedback from 300,000 clients worldwide, law firm submissions, and interviews with leading private practice lawyers. Haynes Boone's London office has been listed for several years in the Legal 500 UK.

"The Legal 500 UK rankings are a resounding testament to the high level of service and value that we are providing to our clients in many practice areas. The rankings also are a ringing endorsement of our continued momentum in the London market," said Cecil, who is managing partner of the London office.

Below are a sample of the Legal 500's positive reviews:

Oil and Gas:

Active in upstream, midstream and downstream oil and gas work, with a key strength in the LNG sector. The team, which is led by Glenn Kangisser, is regularly instructed by oilfield operators, contractors and insurers on a range of projects, energy transactions and disputes. London managing partner William Cecil handles arbitration matters for clients in the offshore oil and gas and energy industries. Phoebe Anderson, who is dual-qualified to practise in England and Australia, focuses on offshore exploration and production and commercial contracts.
Testimonials:

"Very strong team specialising in offshore drilling contracts and shipbuilding contracts. Good innovative ideas from the partners in looking after our company's legal rights."

"We always get the feeling the lawyers genuinely care and being able to reach them anytime is always good. Glenn Kangisser is a fantastic lead."

"The firm specialises in offshore oil and gas more than any other firm in the UK. The solicitors are experts in their field, pleasant to deal with and go the extra mile."

"I have an excellent impression of the firm. Their office and people are welcoming."
Fund Finance:

A strong focus on lender-side fund finance mandates, advising major international financial institutions on the full range of products, including capital call, NAV and hybrid facilities, co-investment strategies, GP investments and management fee lines. The team, which is led by experienced practitioner Emma Russell, also has notable capabilities in ESG financing.

Testimonials:

"The female-led fund finance team at Haynes and Boone is excellent. They are responsive and commercial, and available around the clock for their clients. Emma Russell leads the team and she is also the co-chair of Women in Fund Finance, taking a stand for diversity and female excellence in the sector."

"Emma Russell knows her stuff! But better still, she is client-focused and is like an extension of her clients' internal legal team."

"Deep sector expertise."
Shipping

The team has broad experience meaning that, for all matters, there seems to be a specialist in house. The knowledge is up to date, and as a client, I am being kept well informed about new developments.

Testimonials:

"Extremely professional, with a fast turnaround on documents, which is vital in shipping."

"They have a very strong technical background and good knowledge and understanding of the shipbuilding industry."

"Andreas Silcher stands out for his practical approach, always to the highest legal standards. He will give you the advice, draft contract or other deliverable that suits your business. He is also generally available and always nice to work with."

"Flexible and proactive approach with the ability to adapt communication methods to best suit audience. Took time to highlight potential problems before matters escalated and provide alternate solution to problems."

"Good practical industry experience, including technology/commercial understanding i.e. good matrix of ex-seafarers so they understand the actual business environment, not just the theory."

Construction: Contentious

Well known for its expertise in international arbitrations concerning construction, engineering and infrastructure projects. The team is led by Melanie Willems, who heads the international arbitration practice and has particular strength in contractual disputes relating to energy, projects and engineering matters, and head of litigation William Cecil. Other notable team members are Markus Esly and counsel Robert Blackett.

Testimonials

"Melanie Willems and Robert Blackett are both highly competent and knowledgeable in the (international) arbitration field doing construction cases, and I would have no hesitation recommending them to potential clients for this type of work."

"The team at Hayes and Bone is outstanding: extremely bright, superb lawyers, immensely hardworking and dedicated to achieving the best results for their clients. They are also delightful people who are a pleasure to work with."

"Melanie Willems is an outstanding team leader: she is a brilliant manager of a team and brilliant with clients, and excels at getting the best out of those with whom she is working. She is also exceptionally hardworking and dedicated to her clients, and is outstanding at devising legal strategies to achieve their commercial aims."

"Rob Blackett is an extremely able lawyer: very clever, immensely hardworking and dedicated."

"Markus Esly is exceptionally bright and a brilliant strategist. Calm, measured, and an absolute pleasure to work with."

"Melanie Willems and her team are excellent."

"The practice is at the cutting edge of both subject matter expertise and advocacy skills. Melanie Willems is the stand out leader of the practice."

International Arbitration

The London-based international arbitration team consistently represents clients in ICC, LCIA and UNCITRAL international arbitrations, as well as in ad hoc proceedings. It also acts in bilateral investment treaty and ICSID arbitrations, and fields sector specialists in the energy and construction industries. As "a force to be reckoned with," Melanie Willems is international arbitration head, while Markus Esly focuses on energy, projects, construction and infrastructure disputes; William Cecil is litigation head, and counsel Robert Blackett is "an excellent lawyer."

Testimonials

"The Haynes and Boone team is outstandingly able."

"Extremely bright, immensely experienced, very hard working, highly dedicated and acutely commercial – and, on top of that, a pleasure to work with."

"Extremely quick, skilled and easy to work with in relation to complex multi-jurisdictional legal matters."

"Melanie Willems is a brilliant and outstanding team leader, who is extremely bright, very hardworking, dedicated to clients, and superb with her clients; she is also adept at developing highly successful commercial strategies to achieve her client's aims."

"Melanie Willems is a force to be reckoned with, bringing heaps of energy to a matter along with a keen ability to keep an eye on the big picture."

"Melanie Willems and Markus Esly are both first-class practitioners, with sound judgement, technical knowledge, and a keen sense of strategy."

"Markus Esly is simply outstanding – a superb lawyer, who is immensely bright, hardworking, dedicated, and an absolute pleasure to work with."

"Counsel Robert Blackett is an excellent lawyer, who is very clever, extremely hardworking and very easy to work with."

To read the full firm profile, click here.